Entry Level Event Marketing Due to our explosive growth Renewal by Andersen of Alaska is looking to add to our Events and Retail Marketing team.
Do you want a part-time job that's fun, challenging and engaging? Do you want to develop your sales skills and make GREAT money working part-time and on the weekends? Are you looking to change careers and make an impact on others?
If you answered yes to any of these questions, then Renewal by Andersen is the place to be. Become a Renewal by Andersen Event and Retail Brand Ambassador and make $25-$30/hour (hourly + bonus). You can work anywhere from 8-20 hours per week with opportunities for advancement. We have part-time representatives, team leads, trainers and management positions that are all filled from within.
Don't know much about home improvement? NO WORRIES! We provide an extensive paid training program, plus additional coaching in the field to ensure you are equipped with the knowledge and skills necessary to be successful.
Event and Retail Brand Ambassador for Renewal by Andersen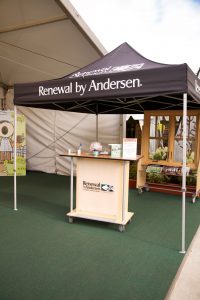 The successful candidates chosen for the position will communicate with homeowners at various events, home shows and retail stores located in and around the local area to generate leads.
As a lead generation position, this position requires the ability to have conversations with ease, overcome objections and keep a positive attitude. A very independent position, Event and Retail Brand Ambassadors travel to and from events with setup items, so reliable transportation is required.
Responsibilities and Duties
This job is for you if:
You are outgoing and comfortable talking with anyone
You have the drive and desire to make $$$
You have both Saturday and Sunday availability (most events take place on the weekend)
You want to work for a team that values honesty, transparency, and FUN!!
You are reliable and punctual
You want to be a part of a young dynamic team that loves to have fun
You desire to be a part of a company that values its employees and has a healthy work culture and environment
Qualifications and Skills
No degree required – just a desire to learn, grow and make connections with people
Set up, execute, and break down events
Maintain high energy and a positive attitude
Ability to learn and use a scripted methodology that's proven to work
Maintain proper channels of communication with management
Have fun, smile, and be enthusiastic!
Part-time hours will include daytime and evening hours mainly on Saturday and Sunday. There are also hours available during the week if you have the availability! Choose your availability, get paid weekly and join a team that loves to have fun!
We look forward to chatting with you about this awesome part-time opportunity. Training class starts next week, so let's connect!