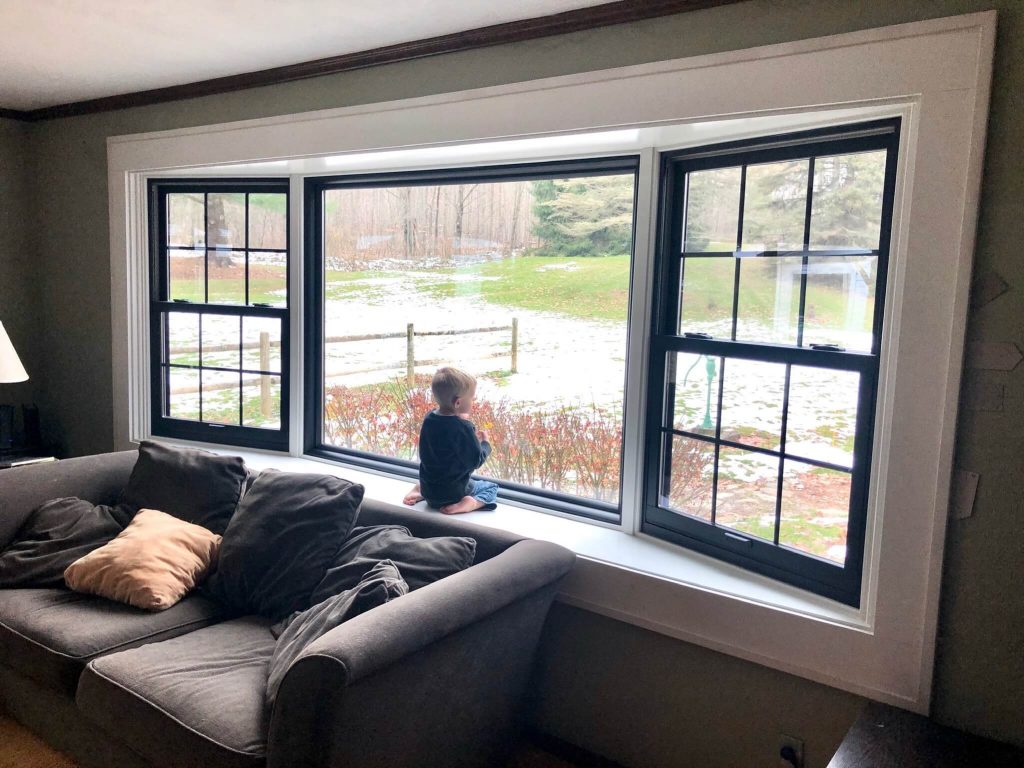 Keeping your home, family and valuables safe should not be something you have to worry about every minute of every day. But it is an important topic to discuss so that you can take preventative measures to help ensure your home is as safe and secure as possible all year long. Believe it or not, doors and windows are two of the most critical elements of home safety. So to help you know what to look for in your own home, we've pulled together 11 of the most critical tips for improving the safety of your doors and windows.
Create an emergency fire escape plan & practice with your family.
In case of an emergency, having a plan will ensure you can escape and reach safety in the quickest manner possible. With your family, identify all possible exits in your home as well as an escape route, making sure to note the location of smoke detectors as well. After you've identified all possible exits, designate a location a safe distance away from your house to meet and call the emergency services. It is important that you practice the fire escape plan frequently throughout the year (we suggest once a month) to ensure everyone remembers what to do during an emergency.
Remove any A/C units from designated fire escape windows.
If your A/C unit is located in a designated fire escape window, you could be blocking your only safe way out in case of an emergency. Double-check your fire escape plan – especially if you live in an apartment building – and make sure you move your A/C unit to another window if necessary.
Fix or replace any doors & windows that are painted or nailed shut.
Windows or doors that are painted/nailed shut are unable to open in case of an emergency – and you don't want to find that out at the last minute. Inspect your doors and windows to make sure they can open and close easily and smoothly. If the windows are painted shut, gently running a putty knife between the edges of the framing can open it up. If you're having difficulties fixing a stubborn window or door, consult an expert to either repair or replace it entirely if necessary.
Test your windows monthly to ensure they open safely.
Windows made of vinyl can contract in the winter and expand in the summer, which may affect how they open. Inspecting and testing your windows monthly gives you peace of mind to know if they're still functioning properly or if it may be time to replace them with options that are safer and more reliable. When replacing any windows, look for a product that won't warp, bow, or bend with our extreme Alaskan temperatures.
Check the landscaping and exterior path underneath fire escape windows.
To provide a safer landing during an emergency, it's a good idea to periodically check the exterior area outside and below your fire escape windows. Look for anything that could cause harm such as nails, sticks, rocks, gardening tools, etc. Some landscaping additions can help create a softer landing such as grass, mulch, or even small bushes. 
Check all exterior doors to make sure they are solid & sturdy.
Frequently check your exterior doors to make sure they're closing smoothly and locking securely and safely. The material used in your exterior door can make a difference in how sturdy they are, so consult with an expert if you're looking for newer and safer exterior door options for your home. Also, check for any gaps between your door and the wall — in addition to being a safety hazard, this can reduce energy efficiency by letting in cold or hot air throughout the year.
Ensure any shades with cords are placed out of reach for kids.
Children love to reach and grab for things, but window cords are a serious safety hazard as they can cause injury or even death by strangling. If you can't tie the window cords up and out of their reach, you could try to shorten/cut the cords. If you're shopping for new window blinds, look for ones that are cordless and therefore eliminate the risk of an accident for your kids.
Make sure doors are well lit. Replace old bulbs or add lights.
One way to ensure that you're securing your front door area is by making sure that it's well lit as it makes it harder for any potential intruders to approach your home undetected.  Burglars tend to look for dark, empty, or unoccupied houses, so motion detectors or timed automated lights are also a great way to deter any burglars – even if you aren't home. Outdoor lights are easy to add to your porch or near your door by heading to your local hardware store.
Move any large objects and furniture away from windows.
In case of an emergency, you need to be able to exit your home in a quick and efficient manner. Double-check that any large furniture or objects are not directly blocking any windows or doors in your home, preventing you from being able to access and open them in case of emergency. Furniture located near windows also makes it easier for children to climb up and potentially fall out the window, risking injury. Make sure their play areas or bedroom furniture aren't located next to easily accessible windows.
Read & follow the safety labels on your door & window screens.
If you've installed new windows or doors throughout your home, take the time to carefully read through the safety labels. Safety labels alert you to the risks that can occur if a door or window is left opened or unsecured, such as injury in the event of a fall. It's especially important to read any warnings for window screens as – in most cases – they are unable to prevent children from falling out of the window.
Test any interior lock mechanisms on your doors & windows.
Certain lock mechanisms are better at securing your doors and windows to prevent forced entry than others. Deadbolts are a good idea to have on all exterior doors, and auto-lock features are recommended to secure windows. If you're looking to upgrade your doors and windows, make sure to discuss the lock mechanism features with your installer and test them out yourself beforehand to see which ones feel the safest.
To help you even further, we've created this helpful Door & Window Safety Checklist that you can download and keep to use at home.