Sliding patio doors create a wonderful transition between your indoor and outdoor space. These space savers will allow you to enter and leave a room without getting in the way of your furniture. They also come in various colors and finishes to complement every home. Despite the benefits of these doors, there are still many misconceptions surrounding them.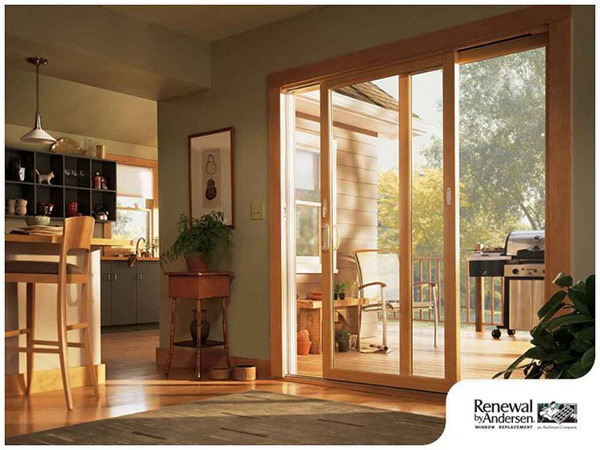 Find out the truth about sliding patio doors from leading door and window installers.
Sliding Patio Doors Are Hard to Operate
Improvements in hardware and engineering have made today's sliding patio doors easier to operate. Older models usually simply sliding the bottom gasket of the door via the track, making larger units hard to open and close. Modern styles like lift-slide doors are top-hung, meaning the panels are lifted from the floor. These doors usually have top-grade hardware, such as precision rollers, for smooth and seamless operation.
Sliding Patio Doors Aren't Energy-Efficient
The energy efficiency of replacement windows and doors depends on their material and components. For instance, multi-pane glass can prevent heat gain in summer and heat loss in winter. At Renewal by Andersen®, our patio doors feature dual-pane High-Performance Low-E4® glass. Together with our insulated panel options and expert installation, we assure you that our sliding doors can give you energy savings.
Sliding Patio Doors Are Unsightly
Many sliding doors on the market have thinner frames for more expansive views. They also come in a wide range of customization options. You have almost endless options when it comes to colors and finishes. Nickel and bronze-colored hardware can give your home a more modern look and feel.
For quality door and window replacement services, turn to Renewal by Andersen® of Alaska. We offer some of the most energy-efficient windows and doors on the market. Call us at (907) 205-5100 or fill out our contact form to schedule a free in-home consultation. We serve clients around Anchorage, AK.
[/et_pb_text][/et_pb_column]
[/et_pb_row]
[/et_pb_section]