Shopping for new windows can seem like an endless and exhausting process of research and browsing. Well, we've got the perfect solution for you. We're bringing the showroom into your home with our new Augmented Reality App. With Augmented reality (AR), an interactive experience that combines the real world and computer-generated content, you can envision how our stunning windows and doors will look in your space before making any decisions. Say goodbye to guesswork and hello to an immersive and interactive shopping experience!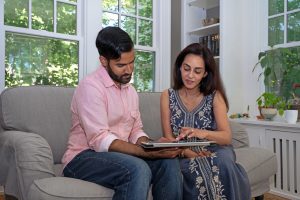 Bring the Showroom into Your Home
See how easy it is to use and how good it looks!
You can place virtual windows or doors into any space and try different styles, shapes, and sizes until you find the perfect fit for your home. You can even select the frame color and grille pattern to match any style!
How to Experience AR
Using augmented reality to experience Renewal by Andersen products in your home is a great way to "try before you buy."
To get the full AR experience, you will need to use a tablet or mobile device with an updated operating system. Once you are ready to do some virtual "window shopping," follow these steps to get started using augmented reality on your device:
Go to our main website on your device: https://www.renewalbyandersen.com/ar-with-renewal-by-andersen
Select a window or patio door you would like to view in augmented reality
Follow the instructions to get the best augmented reality experience
If you're viewing from a desktop, you can send your selection to your device via text message or email
With our augmented reality tool, there's no need to guess how your windows will look before the process begins. You can try out different styles and configurations, ensuring that you make the best choice for your home, all while enjoying a fun and engaging experience.
Once you've found the perfect window or door, you can easily schedule your in-home consultation and discuss your options with our expert team of design consultants who will ensure your vision is realized and that the entire installation process goes smoothly.
So why not try your hand at window shopping in a whole new way with Renewal by Andersen? Explore our collection today and see the endless possibilities for yourself.
Give us a call or fill out our contact form to schedule a free, no obligation consultation. We're proud to serve Anchorage, the Mat-Su Valley, Fairbanks, the Kenai Peninsula, and Juno.