Collins Excavation and Renewal by Anderson are Alaska's Businesses of the Year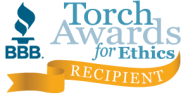 Anchorage, Alaska– September 16, 2019 Better Business Bureau Northwest + Pacific is proud to announce the 2019 Torch Award for Ethics winners for business and charity of the year. This recognition honors organizations that demonstrate exceptional commitment to building trust and integrity with their customers, fellow business owners and communities. 
BBB awarded Collins Excavation and Renewal by Andersen with Business of the Year and Bean's Cafe as Alaska's Charity of the Year.  Additionally, BBB added a new honor this year – the Spark Award  – to recognize newer businesses who exhibit the Torch Award values of ethics, integrity and building trust among staff, customers and around their communities.  This year's Spark winner is Home Care Assistance. 
"We are so honored to announce the Torch Award winners for 2019," said BBB NW+P CEO Tyler Andrew. "This award represents ethical achievement and symbolizes the highest level of trust in the marketplace. These businesses truly deserve the spotlight for their dedication to these values."
Renewal by Andersen is a window and door installation company in Anchorage. They have been offering and installing quality windows and doors for nearly sixteen years. Fourteen of those years, they have been accredited with BBB. Their dedication to quality, trust and excellence is what made them stand out among their competition. 
Bean's Cafe offers meals and safe shelter for those less fortunate in Anchorage. Their mission is to create a space for the hungry and homeless to eat, rest and be comfortable. For over 50 years, they have been offering services, programs and facilities to those less fortunate.
This year, nearly 300 businesses and charities were nominated for the Torch Award for Ethics. Each applicant goes through a meticulous application process that is then reviewed by independent, voluntary panels of judges comprised of community leaders. 
Business Finalists
 Visit www.trust-bbb.org/torch-awards to learn more about the awards.
###
ABOUT BBB: For more than 100 years, the Better Business Bureau has been helping people find businesses, brands, and charities they can trust. In 2017, people turned to BBB more than 160 million times for BBB Business Profiles on more than 5.2 million businesses and Charity Reports on 11,000 charities, all available for free at bbb.org. There are local, independent BBBs across the United States, Canada, and Mexico, including BBB Northwest & Pacific, which serves more than 15 million consumers in Alaska, Washington, Idaho, Oregon, Montana, Hawaii and Western Wyoming.