Energy-efficient windows have a layer of gas between their panes — usually argon or krypton — which helps regulate the temperature inside your home. By insulating your windows with this layer of gas, you can keep your home warmer during the winter and cooler during the summer. However, the seal that keeps the gas from leaking eventually fails, causing the insulation to lose its effectiveness, reducing window clarity and allowing more noise to enter your home.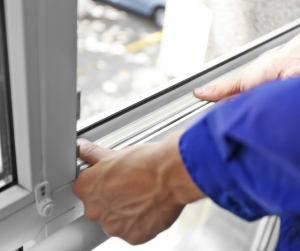 Several signs could indicate window seal failure. As your trusted window replacement contractor, we share the three main signs here.
1. Condensation
You may have a broken seal on your windows if you see condensation inside the window panes. Clean your window thoroughly to ensure that there is no condensation or smudges on the outside of the glass. When you're certain that your window is completely clean on the inside and outside, check for foggy patches again. If you still see condensation at this point, it means that moisture is trapped between the panes and you have a broken seal.
2. Glass Distortion
You can also check for glass distortion to know if your window seal has failed. If your window is filled with argon or krypton gas, the gas that leaks out is not replaced with air. This can cause the middle of your window to bow. To check for glass distortion, stand outside away from the window and compare your reflection between the window you suspect has a broken seal and the other windows in your home. If your reflection appears more warped in one window than the others, you most likely have a broken seal.
3. The Ice Test
Sometimes, you may have a broken seal but no visible condensation on the window. In this case, you can use a piece of ice to check for a broken seal. Make sure you clean both sides of your window. Then, for a few seconds, rub a piece of ice on a small area of the window. Remove the ice and clean the window once more. If you can still see moisture on the window after wiping both sides, you have a broken window seal.
Need to replace your windows? Give us a call or fill out our contact form to schedule a free, no obligation consultation. We're proud to serve Anchorage, the Mat-Su Valley, Fairbanks, the Kenai Peninsula, and Juno.