Given its status as the "heart" of the home, your kitchen should be comfortable, stylish, and most importantly, functional. And sometimes, you won't even need a luxury remodel to make this goal possible. All you'll need, in fact, is newer, better windows. But herein lies the question: which window styles are ideal for the kitchen? As the premier window replacement company in Alaska, we recommend the following: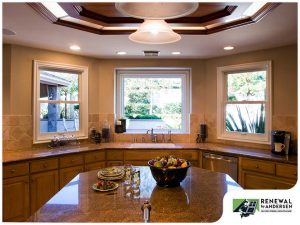 1. Double-Hung Windows
The kitchen generates a considerable amount of indoor moisture, which is why sufficient ventilation should be included in its design. This is where double-hung windows come in. You can open both their operable sashes at the same time so that warm, moisture-laden air escapes via the top sash, and fresh, cool air enters via the bottom sash. By allowing for smooth and continuous airflow, double-hung windows not only get rid of excess moisture in the space but any lingering good and cleaning odors as well.
2. Sliding Windows
There are plenty of things to love about sliding replacement windows. For starters, they help save space, which makes them a good choice for any small or awkward corners in the kitchen. Sliding windows are especially handy when positioned over the kitchen sink or countertops because they provide a maximized view of the outdoors as you work. Plus, they are easily operable. Just a slight push to the side and off they go. This should prove useful to those who have difficulty with fine motor skills.
3. Bay Windows
With their unique shape and deep sill area, bay windows can be used as a cozy breakfast nook. Just place a table and a couple of comfortable chairs next to them. Because of their design, bay windows also bring more natural light into your kitchen from different angles. You'll find this incredibly helpful if you plan on incorporating more effective daylighting into your room. Whatever window styles you decide to use, make sure that you work with a reliable window professional for their installation.
Schedule a Window Evaluation
As one of the area's most trusted window providers and installers, Renewal by Andersen of Alaska works hard to make sure your window upgrade goes on safely and smoothly. Expect only the highest quality results when you choose us for the job.