Quality window installation is the secret to a cozy, energy-efficient home. Well-installed windows bring not only aesthetics but also heightens your home's comfort and safety. When you work with experienced window installers at Renewal by Andersen® of Alaska, expect them to provide nothing but the best in workmanship, making sure to avoid these mistakes.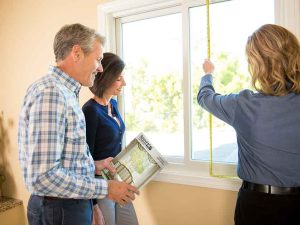 1. Ignoring Window Measurements
Accurate measurements for replacement windows are crucial to ensure that the window fits perfectly in the opening. Window experts take precise measurements to account for any variations in the window frame and wall thickness. They also check for level and plumb, making sure that the window is sealed tightly. Incorrect measurements can result in gaps, drafts and water leaks, which can compromise the energy efficiency and comfort of your home.
2. Improper Fastening
Properly securing replacement windows to the wall is essential to ensure their stability and longevity. Window experts use the right fastening methods and hardware, which are selected based on the type of window and the wall material. Inadequate or incorrect fastening can lead to the window coming loose or shifting over time, compromising its function and structural integrity. Experts avoid this mistake by following manufacturer recommendations and industry best practices.
3. Neglecting Finishing Details
Window experts pay attention to finishing touches, such as trim, caulk and paint. They make sure that the trim is properly installed and mitered to fit seamlessly around the window frame. Also, caulking is applied meticulously to seal any gaps between the window and the wall, preventing air and water infiltration. Paint or stain is applied to protect the window and trim from the elements while enhancing the overall aesthetics of your home. Neglecting these finishing details can result in an incomplete or unattractive installation, which experts take care to avoid.
4. Poor Weatherproofing
Weatherproofing is a critical aspect of window replacement, especially in areas prone to extreme weather conditions. Window experts understand the importance of weatherproofing materials such as flashing, sealants and waterproof barriers. These materials are applied around the window frame and sill to prevent water infiltration. Additionally, experts pay attention to the slope of the sill and the integration of a drip cap to ensure that water is directed away from the window. Inadequate weatherproofing can lead to water damage, rot and even mold growth, making it a common mistake that experts take great care to avoid.
Turn to Us for Your Window Needs!
Don't let common window installation mistakes become a headache. With Renewal by Andersen of Alaska, rest assured that your new windows are good hands. We pride ourselves on our dedication to excellence.
Give us a call or fill out our contact form to schedule a free, no obligation consultation. We're proud to serve Anchorage, the Mat-Su Valley, Fairbanks, the Kenai Peninsula, and Juno.