When living in an extreme climate like Alaska, climate-resistant building materials are a must. Freezing temperatures will distort, dry out, shatter, and otherwise destroy many things. And if your doors and windows aren't suited to the cold, you'll burn hundreds and thousands of dollars on heating bills. So what are the best cold climate windows and doors for your Alaskan home? Let's find out.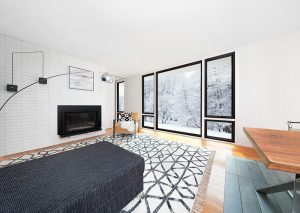 Best Cold Climate Doors for Alaska
There are three primary considerations for your cold climate door: insulation, weather sealing, and a sturdy material that won't warp in the cold. Steel and fiberglass are ideal building materials for doors as they're less likely to warp and become damaged by extreme temperatures. They can be filled with thermally efficient insulating material to provide a much appreciated respite to your heating bills over winter.
ProVia™ doors are excellent examples of cold weather doors. Their steel or fiberglass frames are packed with excellent insulating material. Their weather seals are the best on the market, designed to withstand the harshest environments. You can even get ProVia doors with large glass sections without compromising on insulation or weather resistance and can style them to suit any home. And, of course, they're excellent, sturdy, secure doors to ensure the safety of your family at home.
Best Cold Climate Windows for Alaska
Here's the short version: For the best cold weather windows in Alaska, you'll want double-pane windows with High-Performance Low-E4® SunSmart™ glass and a Fibrex® frame.
Why?
Double pane glass provides additional insulation to your home. Glass itself is a poor insulator and will let heat in and out fairly easily. Double-pane glass creates a pocket of gas between the glass that acts as a much more effective insulator than just the glass itself. This keeps your home warmer in the winter and cooler in the summer. With single-pane glass, you can end up spending thousands of dollars extra on heating bills over the life of your windows.
Secondly, Low-E4 SunSmart glass adds additional insulating properties to the windows, particularly important in the winter. Double-pane SunSmart glass can cut electricity bills by up to 25%. It's also specially formulated to be easy to clean, keeping maintenance to a minimum.
And lastly, Fibrex frames. Vinyl is cheap and easy to maintain but warps and distorts at extreme temperatures. Wood is sturdy but susceptible to rotting over the years. Fibrex, meanwhile, combines the low cost of vinyl with the strength of a wooden frame. It's also an excellent insulator. Combined with SunSmart glass and double-pane windows, you'll slash your heating bills spectacularly.
When you're ready to take the first step, give us a call or fill out our contact form to schedule a free, no obligation consultation. We're proud to serve Anchorage, the Mat-Su Valley, Fairbanks, the Kenai Peninsula, and Juno. Contact us today and see how we can help you stay warm with the best range of cold climate windows & doors.