Now that the weather is warming up, you're likely opening and closing your windows more frequently. You've probably noticed that after the long winter, the exterior of your windows are coated with grime, dust, dirt, or even pollen from the spring. It's important to keep windows clean for a clear view, enhanced curb appeal, and increased energy efficiency. So what's the best way to go about this? In this blog post, we break down the steps to take, the supplies you'll need, and the correct process.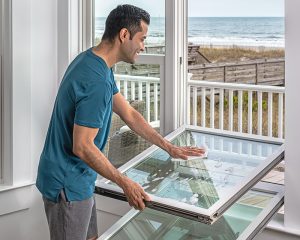 To keep your outside windows clean, there are a few steps to take before the actual cleaning process begins:
Clear the areas around the windows both inside and out. All dust and debris should be removed.
Remove and clean the screens. You cannot get your windows clean if the screens are still on!
Gather your cleaning supplies.
Clean on a cloudy day. While a sunny day might be warmer, the glare from the sun can hide the imperfections you are trying to remove. Additionally, the sun can dry the cleaner onto the glass, leaving hard-to-remove streaks.
Here is our list of recommended tools:
Stepladder
Wash bucket
Sponge
Squeegee (optional – better for larger windows)
Soft broom or cloth
Vacuum
Scrubbing sponge or scraper
Window cleaning solution (we prefer a solution of water and vinegar)
Microfiber cleaning cloth
Soft cotton towel for cleanup
Steps to clean your windows:
Remove the screens.
Your windows should be completely clear of dirt and dust before you apply the cleaning solution. Vacuum around the frames first, then spray the glass down with water to ensure all the dirt is gone.
Using your cleanser of choice, go over the surface of the window with a soft microfiber cloth or sponge mop. Make sure the cloth is clean and dry before use!
Rinse off the windows once more.
Wipe the windows dry with the squeegee. Be sure to dry the squeegee off between each pass. For smaller windows, it may be better to use a microfiber towel instead.
For stubborn stains, dirt, or bird droppings, saturate the spots with a solution of vinegar and water and let stand for several minutes. You can then scrub it out, but be careful not to use a harsh cloth that could scratch the window.
Spray, clean, and dry your screens before replacing them.
Did you know that our windows easy to clean and maintain? If you'd like to learn more, give us a call or fill out our contact form to schedule a free, no obligation consultation. We're proud to serve Anchorage, the Mat-Su Valley, Fairbanks, the Kenai Peninsula, and Juno.