We're officially into fall and September is nearing its end. If you haven't already, it's time to prepare your home for the change in seasons by storing away those summer things and getting your property ready for the colder weather.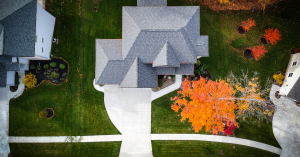 Here's a quick checklist to get your house ready for fall:
Clear your yard. Protect your backyard furniture from the cold and wet by cleaning and covering it and storing it in a dry place. Move outdoor tools such as lawn mowers, grills and barbeques to a shed or garage. Disconnect and drain your outside hose.
Check your roof and gutters. Look for any shingles that are bent, cracked or missing and replace them. Check for leaks in these areas as well as around chimneys and skylights. While you're up there, clear the leaves and debris from your gutters.
Clean and weatherproof outside surfaces. If you want to clean your patio, driveway, deck and home exterior, this is your last chance to rent the power washer you'll need. You should also renew weatherproofing on decks, fences and other exterior structures as well as insulate any pipes in unheated locations.
Get your HVAC serviced. Before the cooler months set in, have your heating and air-conditioning system inspected and serviced. You don't want to be stuck with a dirty filter that will let allergens into the air around your home during the wintertime. If you have ceiling fans, reverse direction to a clockwise motion to create an updraft to move warm air down.
Check your home's exterior for cracks. Before fall, winter and spring weather set in, protect your home's exterior by caulking around areas where masonry meets siding and where pipes or wires enter the house. This will prevent water from getting in, resulting in cracks and mold.
Check window and door seals. Save money on heating and cooling costs by checking for drafts around the windows and doors. Apply weather stripping or caulk to reduce drafts. While you're at it, clean your windows of summer grime before the cold weather sets in.
Renewal by Andersen of Alaska provides premier window and patio door products and installation services. To discuss your window replacement options, give us a call or fill out our contact form to schedule a consultation. We're proud to serve Anchorage, the Mat-Su Valley, Fairbanks, the Kenai Peninsula, and Juno.