Summer is a great time for outdoor fun and relaxation, but it can be challenging when you want your home to feel like a comfortable refuge from the heat. Cranking up the air conditioner isn't always the best solution. Whether you're trying to save money or reduce your carbon footprint, there are still ways to keep your home cool. Here are some simple tips to help you survive the summer heat without relying on an air conditioner.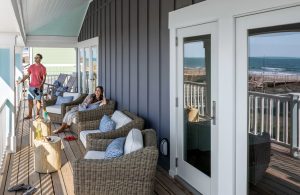 1. Use fans.
Ceiling, table, box, tower, and portable fans, even an attic fan all help to create a cooling breeze and circulate air throughout the home. Fans are more affordable than A/C because they use significantly less energy. Make sure you set your fans to rotate counterclockwise to send cool air down.
2. Use awnings or shutters on south and west-facing windows.
South-facing windows can absorb a lot of heat. You can reduce your home's temperature significantly by installing awnings or shutters to block the sun's rays. Window awnings can reduce solar heat gain in the summer by up to 65% on south-facing windows and 77% on west-facing windows. A benefit of these outdoor window treatments is that they allow a breeze to pass through open windows.
3. Check for air leaks.
Air leaks around doors, windows, vents, and other openings in your home, even small cracks in your home's foundation, can let hot air in and cool air out. You can improve your home's energy efficiency by sealing these leaks with caulking or weatherstripping. Ensure doors and windows are appropriately weather-stripped, and consider installing an energy-efficient door sweep on all exterior doors to create an airtight seal.
4. Use light-colored paint.
Dark colors absorb more heat than light colors. By painting your home's exterior with light-colored paint, you can reflect more sunlight, keeping your home cooler. Using white or light neutral colors on the walls and floors in rooms that face south and west will also reflect the sun's heat better than darker colors.
5. Use window coverings.
Window coverings such as blinds, curtains, or shades can also block the sun's rays and keep your home cooler. Make sure to close them during mid-day, the hottest time. However, keep coverings pulled back during cooler times of the day to let in airflow. Try to create a cross-breeze by keeping multiple windows open.
6. Increase your green space.
Grass, trees, and plants significantly reduce air temperature by absorbing heat and adding moisture to the air, making your home feel cooler. Be sure to keep plants well watered during hot weather; water has the added benefit of further lowering air temperature. Try creating a green space outside your home or adding potted plants inside. Installing a misting system outdoors is an efficient way of watering plants while keeping water use and temperatures low.
7. Replace single-pane glass.
Compared to single-pane glass, double-pane glass significantly reduces heat transfer due to the insulating air space between the glass layers. This makes them a perfect choice for south and west-facing rooms. By replacing single-pane windows with energy-efficient windows, you can reduce the heat coming in and save on your energy bills.
Staying cool without an air conditioner requires some creative thinking but is entirely possible. Helping you find the right windows to make your home comfortable is what Renewal by Andersen does best. We're proud to work with the best people, offer a superior, start-to-finish replacement process, and provide you with exclusive, industry-leading products. G
ive us a call or fill out our 
contact form
to schedule a free, no-obligation consultation. We're proud to serve Anchorage, the Mat-Su Valley, Fairbanks, the Kenai Peninsula, and Juno.