Understanding the performance metrics of replacement windows helps you determine which ones will ensure your home's energy efficiency. Two important metrics to consider are the solar heat gain coefficient (SHGC) and the U-Value. In this blog post, we'll dive into what these terms mean, why they matter, and how they differ. Armed with this knowledge, you'll be better equipped to choose the perfect windows for your home.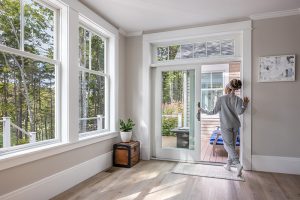 Solar Heat Gain Coefficient
The solar heat gain coefficient (SHGC) is a measurement that shows how effectively a window blocks the sun's heat from entering your home. The SHGC is a value between zero and one, with lower numbers indicating better performance in blocking heat transmission. This metric is particularly important in warm climates or during hot summer months, as it helps reduce cooling costs and maintain a comfortable indoor temperature. A window's SHGC depends on its glazing and frame components. Windows with low-emissivity (low-E) coatings or several layers of glazing have lower SHGC values. Certain framing materials, like wood and fiberglass, provide better insulation, which can lower SHGC.
U-Value
The U-Value measures the rate of heat transfer through a window, indicating its insulating capabilities. Lower U-Values signify better insulation, which is particularly useful in colder climates or during the winter months. Window replacement units with low U-Values help reduce heating costs and maintain a comfortable indoor environment. Similar to SHGC, the U-value of a window is influenced by the glazing and frame materials used. Windows with multiple layers of glazing or low-E coatings generally have lower U-Values. Furthermore, well-insulated frames made of materials like wood or fiberglass can help minimize heat transfer and contribute to a lower U-Value.
Comparing SHGC and U-Value
While both SHGC and U-Value are affected by the window's glazing and frame materials, their energy efficiency goals differ. SHGC focuses on minimizing the sun's heat entering your home, while U-Value measures the window's overall insulating capabilities. To achieve optimal window performance, it's essential to consider both metrics and find the right balance for your specific needs and climate.
Professional Window Installation and Replacement
Hiring professional window installers, such as Renewal by Andersen® of Alaska, ensures the optimal performance of your windows. Expertly installed windows can lead to improved energy efficiency, ultimately resulting in lower utility bills and increased home value. We offer an array of window replacement options designed to cater to your unique preferences and requirements. Give us a call or fill out our contact form to schedule a free, no obligation consultation. We're proud to serve Anchorage, the Mat-Su Valley, Fairbanks, the Kenai Peninsula, and Juno.