Even in Alaska, the sun's ultraviolet rays are strong enough to affect your home's interior. Over time, UV rays can damage your drapes, furniture, rugs, and artwork, as well as wood and stone surfaces, giving them a dull, faded appearance. This is why Renewal by Anderson offers replacement windows with Low-E glass to reduce these effects.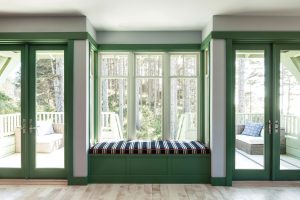 ENERGY STAR®-certified windows are the best defense at reducing the negative effects of constant exposure to UV rays. All our high-performance Low-E4® glass packages have exceptional energy-efficiency ratings, but they filter out UV rays differently. Here's how the four best types of glass for the Alaskan climate work:
SmartSun glass meets our highest standards in cool and hot weather performance. SmartSun glass blocks 95% of harsh UV rays
Perfect where both heating and cooling costs are a concern, our Low-E4 glass helps keep your home warmer in winter, cooler in summer, and blocks 84% of harmful UV rays.
Low-E4® SmartSun™ Glass with HeatLock® Technology
All the benefits of our Low-E4 SmartSun glass that blocks 95% of UV rays plus an energy-saving glass coating that helps your living space feel warmer and more comfortable.
An extra pane of glass helps keep the indoor temperature in and the outdoor temperature out, making this our most energy-efficient option. Perfect for colder climates where more months of the year are spent heating the home.
Our windows take advantage of the newest technologies to help lower your energy costs and keep your belongings and family safe from UV damage. To discuss your window replacement options, give us a call or fill out our contact form to schedule a consultation. We're proud to serve Anchorage, the Mat-Su Valley, Fairbanks, the Kenai Peninsula, and Juno.