Your home is an important investment, and your windows are an important part of that investment. Quality matters. That's why we only sell the finest windows and doors on the market today—high quality windows and doors that pay for themselves in the long run. Here are some of the ways that Renewal by Andersen saves you money over time.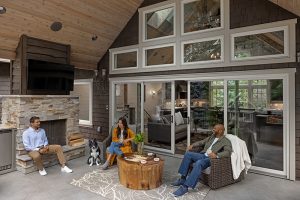 1. Improved Comfort
Our windows let plenty of natural light into your home while blocking outside noise. Energy-efficient windows also provide the ability to better control room temperature.
2. Lower Utility Bills
Our ENERGY-STAR® rated windows lower heating and cooling costs through the year. Energy-efficient windows insulate better than regular windows, so they reduce heat loss through the glass during winter and reduce heat gain during summer.
3. Improved Insulation
In Alaska, our temperatures fluctuate a lot during the year. Our high-quality windows insulate well against extreme cold or heat, helping you save on energy bills. And as mentioned above, improved insulation means greater noise reduction.
4. Improved Security
New windows provide a higher level of security, adding another layer of protection from the outside world. Old windows and patio doors may have warps or cracks that cause the locking mechanism to fail, making it easier to break into the home. With new windows, there's no need for a broomstick in the window frame!
5. Lower Maintenance Costs
The high-quality materials used in our windows are designed to last longer than regular replacement windows and require less maintenance throughout their lifecycle. Our proprietary and patented Fibrex® material lasts longer and performs better than products competitors use.
6. Improved Indoor Air Quality
Windows that are poorly insulated or lack weather stripping allow outside air to leak into your home. Our windows improve your indoor air quality by blocking out dust, pollen, mold spores and other allergens that can aggravate respiratory conditions like asthma and allergies. If you want to have your windows open, fiberglass insect screens are included with every operable window, keeping bugs out while inviting air flow in.
7. Better Home Appraisal Value
New windows also improve the look and functionality of a home. Should you choose to sell, new windows will often raise a home's value.
When it comes to the windows in your home, there's no substitute for good window design and quality craftsmanship. To discuss your window replacement options, give us a call or fill out our contact form to schedule a consultation. We're proud to serve Anchorage, the Mat-Su Valley, Fairbanks, the Kenai Peninsula, and Juno.